Basic information that'll keep you fit and healthy without giving away your first born!
So you want to eat healthy, organic foods but get sticker shock every single time you go to the grocery store to support your new goals. Maybe you end up leaving the store defeated once again by the high prices of organic meats and produce. I too used to feel that way until I started implementing some simple and basic strategies that have helped me maintain my "mostly organic" diet I claim to sustain to this day. I'd like to share those with you now.
1. Plan ahead-
I know this sounds simple enough, so why do we have a hard time making it a routine? Look at the food already in your fridge and make meals around what you already have before going shopping. Make a meal plan on the weekend to determine which meals you will serve your family for the week. Write down all the ingredients and cross reference which ones you already have sitting in your fridge and in the pantry. You'll save so much money (and food) this way since produce spoils quickly. Use it up!
Also, consider the nights you'll be home late or have a lot going on that day (this is where a calendar is handy). Can you plan a crockpot meal or throw something in the instant pot? I can't even tell you the gratification I feel when I've thrown a roast in the crockpot that morning and we all sat down to a delicious meal in the evening. It only takes a few steps before hand (and a bit of planning) to make this happen. This is why "Plan Ahead" tops the list at #1. It makes all the difference.
2. Make your list-
You've made your plan, now make your list. Aren't grocery stores sneaky? There's so many items to choose from, not to mention display racks full of goodies right by the registers just to get you to buy more. When you are prepared with a list (and stick strictly to it) you'll save money and time. It's true! These extra products you throw in your cart add significant cost to your grocery bill. Make a list first. You'll be so glad you did.
3. Shop the perimeter of the grocery store, not the middle aisles-
The healthiest foods for your body are found along the outer edges of the store. Fresh produce, meat, dairy, grains…If you want to eat healthier, there's no need to even go down the middle aisles of the grocery store unless you need the occasional diced green chili's or olives. Those processed packed foods such as pre-made sauces, soups, chips, cookies, crackers, sodas, cereals and much more, are all junk you could do without. Have you noticed the cost of a box of cereal? Outrageous! And you're lucky if it'll last you more than 3 days. I am able to save a significant amount of money which I use towards organic meats and produce, just by skipping the middle aisles.
4. Buy Whole Foods-
It's super enticing and sometimes necessary when you are in a hurry to buy those pre-packaged fresh vegetables already chopped up for you. But the problem is they cost way more. What if you invest in a spirilizer and make those zucchini noodles and curly sweet potatoes yourself? Over time, you'll have well paid for the thing just in the money you'll save not buying the pre-cut vegetables. Buy whole produce and chop and cut them yourself. I might add here that it's wise to invest in a good santoku knife and a good knife sharpener. A good sharp knife makes all the difference! You'll want to chop those vegetables yourself.
5. Check your local ads-
This is a must for me! I check my local farmer's market ad every single week to see which organic meats and produce or wild caught fish are on sale. If it's an extra good price, I stock up. Some stores even have an app you can download for extra savings on fresh foods. My local Sprouts Farmers market runs their ads from Wednesday-Wednesday the following week. The best day to shop is on Wednesdays when I get to shop from the previous Wednesday's ad and the new Wednesday's ad. Double day! But sometimes they offer a 3 day only sale on the weekend where I can get extra savings on some of the foods I buy most. It's worth it to start checking your local ads each week. They come in my mailbox on Tuesdays.
6. Eat local. Eat seasonal-
This one get's overlooked a lot. You can save so much money just by buying the produce in season at the time. It's usually front and center in the middle aisles of the produce section and it's always a good price. Your body was meant to eat with the seasons. Summer fruits and vegetables are meant to cool you down, while winter produce is grounding and warm.
7. Buy in bulk-
When buying nuts, seeds, rice, quinoa or other grains, consider the bulk section at your grocery store. The bulk sections are usually much cheaper than buying the packaged foods. Bring your own containers to be even more sustainable! Win win!
8. Try plant-based proteins-
Beans and legumes are nutritional powerhouses high in minerals and fiber
and also inexpensive. They're a filling addition to any meal, and dried beans
practically last forever! Swap out meat a couple of times a week and use plant-based protein instead. This is a great way to save some extra money and get the health benefits from a different source.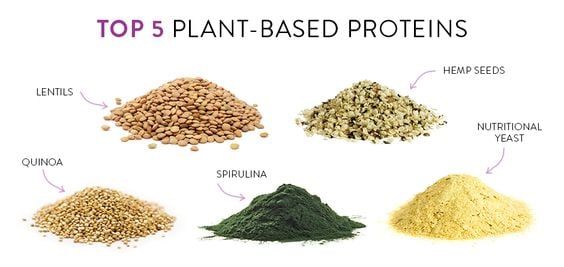 9. Check out the frozen produce section-
For less expensive fruit and vegetable options (especially organic), don't rule out
the frozen foods section! Fruits and vegetables are typically flash-frozen right
after harvest, which means they still pack a nutritional punch. Frozen fruits and
vegetables also keep much longer than fresh produce, so it's a great option if
your produce often goes bad before you have a chance to use it. I love Costco for this reason! I find plenty of frozen organic fruits and vegetables right there that I can easily throw together in a pinch. They make for great smoothies as well.
10. Always check the unit price-
Grocery stores will typically show two prices on a product. The price it's selling for, and the cost per unit or oz. One package might cost $3.00 for 10oz while another might cost $4.50 for 20oz. The latter would make for the better deal. You'll get more bang for your buck! I just bought a gallon of apple cider vinegar today for $17.99. It was .14 cents per unit. If I'd boughten the regular bottle for $5.99, I would've paid .20 cents per unit. I'll get a lot more use out of the one gallon.
With these tips, you'll be a healthy savvy shopper in no time at all!
What tips have you used to save money on healthy foods in the grocery store? Post in the comments below! I'd love more recommendations.
-Health Coach Heather
Today's thoughts come from the Institute for integrative nutrition!